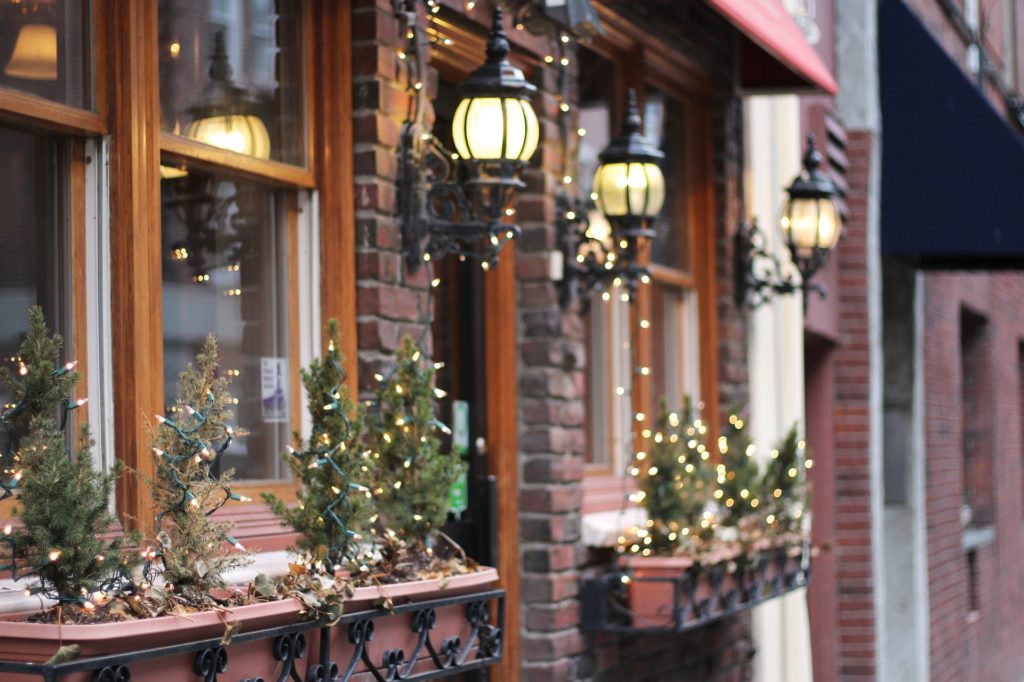 Many sellers think that putting their home on the market in the winter months, especially around the holidays, is a waste of time. However, if you're prepared to move, the winter can actually be a prime time to sell your home. While other homeowners wait until spring to list their properties, there are fewer homes on the market, which means your property is likely to get more traffic. With Salt Lake City's hot real estate market, taking a little extra time to spruce up the outside of your home can only help.
While the winter weather and school schedules make the winter an inconvenient time to move, life happens, and sometimes buyers must look for a new home amidst the snow and dreary skies. One of the most critical parts of your home, any time of year, is the outside. It's the first thing potential homeowners see when they view your listing online or when they drive up to the property. While it's always important to make sure your property looks great, there are a few winter-specific things that can help make your home stand out.
Snow removal: One of the most important things you can do is spend time shoveling the sidewalks and driveway. It may not be the most glamorous work, but keeping the walkways clear, helps your property look put together. Perhaps more importantly, clean sidewalks provide a safe way for buyers to get onto your property. Salt Lake City can get some snowy days and freezing temperatures. You'll want to keep the snow removal gear nearby for multiple uses. If you don't have snow, make sure to clean up twigs and leaves from the lawn and driveway.
Trim away dead bushes and plants: The cold weather can wreak havoc on your green space. Somehow the gray skies make dead plants and shrubs look even worse. You don't need to tear out your garden or rid your yard or any shrubbery, take a bit of time to remove dead leaves and broken branches. Consider trimming large limbs too.
Clean the gutters: Once fall hits, your gutters become a catchall for flying leaves, small twigs, and blowing dirt. Cleaning your gutters two to three times a year is good practice anyway, but make sure to pay special attention when you plan to put your home on the market.
Wash the exterior of your home: Pressure washing the exterior of your home can help protect the home and give you house a brand-new feel. Hiring a professional can cost between $300 and $600, or you could rent a pressure washer and do the work yourself. If you can't or don't want to invest in a whole-house wash, make sure to tackle the windows (including sills), drain pipes, and handrails.
Clear out the garage: Your garage may not be instantly viewable from the street, but one thing buyers will be thinking about if they tour your property in the winter is covered parking. Make sure your garage looks like a garage and not a storage unit when buyers come calling.
Front porch: An inviting porch is a simple way to make your home feel welcoming without spending much money. Make sure the floor is clean. Add furniture, a carpet, some lighting, and brightly-colored décor or winter-friendly miniature trees for a comfy welcome to buyers.
Front door: Take a drive around a few neighborhoods in the Salt Lake Valley, and you'll start to notice a trend — colored front doors. If your front door is a bit drab, you can add some much-needed pep for about $150. Choose an outdoor primer and paint, and in a few hours, the front of your home will look brighter and more interesting. Try to paint on a clear day, so the paint dries faster.
Mailbox: Your mailbox does a lot of work, but it may not always get the TLC it deserves. Make sure to scrub down your mailbox.  If it's particularly run down, consider painting it or replacing it entirely. A fun mailbox is a simple (cheap) way to give personality to the house.
Winter foliage: Winter may not offer the same glories of spring-time gardens, but there are a lot of gorgeous plants, trees, and bushes that thrive in the winter. A few options that can add some color to your yard include the Rosa Rugosa, Autumn Joy (they turn red in the winter), Italian Arum, Sweet Flag, Lily of China, and Candy Tuft. Miniature evergreens are another fun way to add personality to your yard.
Décor: Winter is a great time to decorate your home. Don't be afraid to put up some holiday lights either. It's best to keep it simple (since you'll have to pack them up when the house sells). Keep it simple inside and out. You want the home to feel welcoming, but it should also feel impersonal so that the buyer can see themselves living there.
Colored wreaths are gorgeous throughout the winter, so consider wreaths that showcase winter rather than a specific holiday to help spruce up the property all winter long.
Selling your home in the winter has its challenges, but there are also benefits. Keeping the exterior of your home clean is a great way to attract attention during the cold months.